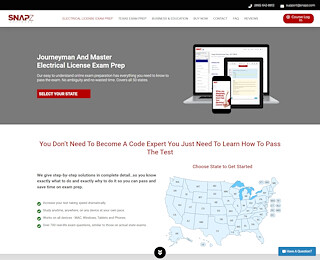 If you sat down to take your electrical contractor's licensing exam right now, would you pass? Snapz offers a
master electrician exam prep
course that is sure to teach you everything you need to know and understand in order to successfully pass your licensing examination in any state.
So, you want to be a Master Electrician. Good for you! Electricity is a wonderful thing, but few people actually understand how and why it works. Even fewer people are skilled enough to manage the miraculous stuff. A Journeyman or Master Electrician can make a very good living while providing an essential service to the community in which they reside. A Master Electrician exam prep course from SNAPZ can help you study effectively while making good use of your time. We understand that you may not have hours and hours every day to block out for studying the Master Electrician exam prep material. That's why we've also devised the amazing Speed Drills. The fun and effective learning aids will get the important electrical information into your head where it belongs. You'll remember what we teach you long after you've taken and passed your NEC licensing examination.
Before you can be either Journeyman or Master Electrician in the United States, you must study for and pass the NEC licensing exam. We can help you do exactly that. SNAPZ Master Electrician exam preparation courses have a remarkable success rate. Most of our students pass the National Electric Code examination the first time they try. If you use the CD and Speed Drills, you can learn everything you need to know to pass your NEC licensing examination with skill, knowledge and confidence. By the way, as of this writing, SNAPZ software is for IBM PC computers only. Order your CD today and start studying for the NEC test this weekend.