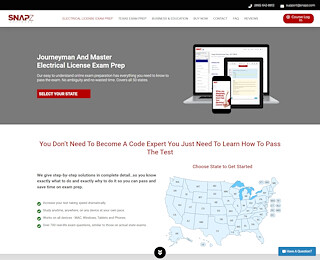 When you first receive your Snapz
electrician exam prep
disks, locate the final exams. Take the tests before you study, just to see how much you already know. If you have been working with an electrician for a while, you may be more prepared to take your licensing exam than you think.
Want to be a master electrician? You've got to know your stuff. If you are serious about making electricity your life's work, read on. Snapz software is delighted to offer a self-study course that will get you more ready than you've ever been to take and pass your NEC certification examination. Without it, you can't work as a licensed electrician in the United States. Electricity is serious stuff, and it truly mustn't be installed or worked on by anyone who is not trained, certified and licensed. To do so could be deadly. When you go to take your electrician exam, prep that you do now will certainly pay off. Snapz electrician exam prep courses will instill in you the total knowledge you require to successfully pass the NEC exam the first time you take it. Our success rate is quite phenomenal. If you'd like to know what previous user of Snapz electrician exam preparation courses think of us, read the testimonials found elsewhere on this website.
Don't go unprepared into the NEC exam room. That's not the way to ensure success. Learn the skills you need to know, understand the concepts of electrical energy, and order your Snapz electrician exam prep study courses on disk. You will learn everything you need to know and be given practice exams to hone your test taking skills. We now offer speed drills for the 2011 NEC code. Learn everything you need to know about the code along with all definitions that will be used in the actual NEC electrician exam. Prep is everything.